Kevin Dineen...
Number 11. What can I say? He IS my favorite player on the Columbus Blue Jackets. Grizzled warrior, gritty, determined, full of hustle, exuding leadership - pick any one of those to describe the guy. Or perhaps I'll just let a great ad printed in December in the local paper speak for me... :)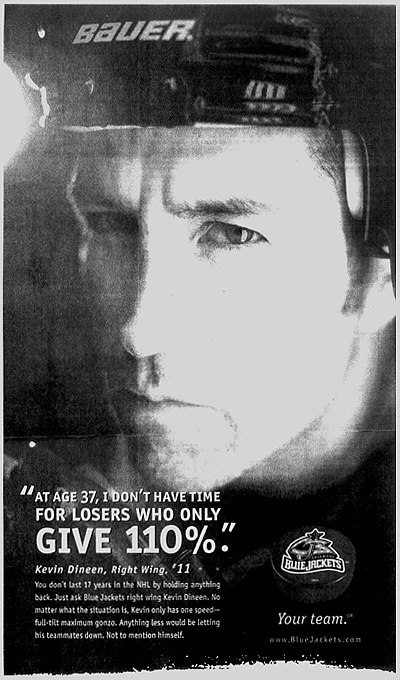 That hard to read paragraph in the ad...

"You don't last 17 years in the NHL by holding anything back. Just ask Blue Jackets right wing Kevin Dineen. No matter what the situation is, Kevin has only one speed - full-tilt maximum gonzo. Anything less would be letting his teammates down. Not to mention himself."

* * * * *

I would say that Kevin is close to retiring from the NHL - probably sooner rather than later. Kinda unfortunate for King(er) and the rest of the guys, not to mention the fans, but what are we gonna do? Nothing really. It's not our decision to make. That's all Kevin. Even though he's the oldest player on the team, he sure doesn't skate like an old man. :) He's got just as much jump as the younger guys and maybe even more. That grit, determination and leadership just oozes off of him. Perhaps when he does retire (hopefully not for a few more seasons) King'll hire him as part of the coaching staff. Cough, cough, hint, hint... :)

I don't just like for his looks (though I do lack that Y chromosome) or his playing ability. I also love that like many NHL players out there, he's involved in some great charities and finds time to give back to the community. Being diagnosed with Crohn's disease (an excruciatingly painful small intestine affliction), he's active in the Crohn's and Colitis Foundation. This past December along with coach King, Kevin participated in a program to bring hockey indoors to those that are wheel-chair bound. Eventually the plan is to get them to play hockey on sleds on the ice. Kevin came away from that experience "pumped."

* * * * *

On picking #11...

"I would have liked to have had No. 9, but the damn thing was in the rafters because of some Gordie Howe guy. I was good friends with Gordie, but I certainly wasn't going to ask for his number. I took 11. I like 11. It's just a good number. Double bars. Deuce. That's what they used to call me. Among other things."

On playing in Columbus versus Raleigh...

"I'm not sure if they [Carolina Hurricanes] realize it now or not, but I know they will after the game [played 12/29/00]. Once they see this arena and our fans and realize what they have back home..." "I've said it before, and I'm not just saying this. I'm not running for office or anything. Columbus has a chance to be a real destination in the NHL. It can become one of the truly special cities in the entire league."

On his contributions to the team...

"I have lots of confidence in my ability. I'm getting more of a chance to play here and the puck goes in. The last time I put any points up was when I was playing wth Andrew Cassels. Then I was playing with Kent Manderville. I would like to think I can get in double figures (in goals) and still play the role I'm playing. It's nice to have an impact in the outcome every now and then."

* * * * *

My Fav Dineen Moments...

December 8, 2000: 7 minutes into the game against the Bruins, Kevin and Boston's Joe Thornton lock horns and have it out. Thorton ends up with 5 minutes in the box and Dineen get's quite the shiner AND get's ejected because his sweater wasn't tied down. Crap rule, IMHO. Dineen leads the Jackets in penalty minutes - 90+.

December 30, 2000: Went to an open prac at the Ice Haus and asked Kevin to sign my jersey. Ended up chatting a bit with him. Very nice, down-to earth guy. Not bad on the eyes, either. :)

January 3, 2001: Oilers game. He grabs the loose puck along the right boards and charges towards the goal, wristing it in top shelf past the Oilers netminder. That unassisted goal makes it six goals, along with four assists giving him ten points for the season. Woo!

Quick Facts
Position: Right Wing
Shoots: Right
Size: 5'11", 190 lbs
Birth Date: 10/28/63
Hometown: Quebec City, PQ, CAN
Currently Resides: Columbus, OH, USA
Year/Round Drafted: 1982/3rd
Overall Choice: 56
Clubs Played: Hartford Whalers, Carolina Hurricanes, Ottawa Senators, Columbus Blue Jackets
Status: Married to Ann, daughters Hanna & Emma, son William Declan
Family: Brother, Peter is a pro scout for the Jackets. Other bros, Gord, Shawn, & Jerry play hockey too. His father, Bill played 5 seasons for Detroit & Chicago and was head coach in Philly for 2 seasons.
Fav Movies: Braveheart & Raiders of the Lost Ark
Fav Bands: U2, Tragically Hip
Fav NHL City: LA
Fav Place to Eat on the Road: Capones, Ottawa
Charities Active in: Crohns & Colitis Foundation, Special Olympics, Uconn Children's Cancer Fund & the Jimmy V Foundation.
[Oddly enough, U2 is my fav band and Braveheart is my fav movie. :) -- Elena, webmistress]

On May 1st 2000, the Blue Jackets were officially allowed into the NHL. On October 7th, the Columbus Blue Jackets took to the ice in their inaugural game against the Chicago Blackhawks. It's been a hell of a ride so far and I look forward to what's to come. We've got two wall gods in veteran Ron(nie) "Tugger" Tugnutt and up-and-comer Marc Denis and a host of other fabulous players like Espen "Flyin' Knutsen" Knutsen, Geoff "Sandy" Sanderson, Serge Aubin, Steve Heinze, Tyler "Ty" Wright and my guy, Kevin Dineen. The 'Wide is incredible...the best and ONLY facility to have an attached practice rink (the Corecomm Ice Haus) in the league.
Even though many of the guys aren't that big, they're not afraid to take the hits or to dish them out. What we lack in talent, we make up in some serious work ethic. :)
LET'S GO JACKETS!
<clap><clap> <clap><clap><clap>